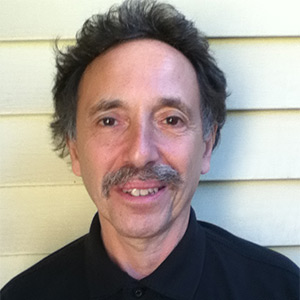 10 Nov

Staff Spotlight: John Fragasso, Employment Services

Staff Spotlight: John Fragasso, Employment Services

Everas Community Services, Inc. is committed to advancing opportunities to include people with disabilities in the workforce. Our agency operates several businesses for the primary purpose of providing competitive employment to people who are blind and visually impaired.
As a business partner with Merck & Co. Inc., Everas operates a company store located on their Rahway campus that offers employees the convenience of being able to purchase gifts and greeting cards, Merck Logo items, stamps, and pick up a quick snack throughout the day without having to leave campus. Our Company Store Team comprises  John Fragasso, Sales Associate and his Supervisor.
In honor of Disability Employment Awareness Month, celebrated during October, John is the feature of our Everas Staff Spotlight. John was born with a genetic condition that affects his optic nerves, and has been legally blind since birth. His first job was as an office assistant with AT&T directly out of high school. He used a magnifying glass while at work, as well as a large magnifying sheet that fit over the screen of his computer to enlarge his view. During his time at AT&T, he was promoted to the Graphic Arts department and then to accounting, and his last job with the company was in IT/Computer processing. By this time, there had been some advances in adaptive equipment and technology, and John was utilizing a large screen laptop and a larger keyboard. After 27 years, John lost his job due to downsizing.
Having to embark on job search after 27 years is difficult for anyone, and more so for a person with disabilities. John worked with the NJ Commission for the Blind and Visually Impaired to support his job search, but was out of work for seven years before learning of the opportunity with Everas. Working with Merck & Co. Inc., Everas has made adaptations that make the cash register and other aspects of John's work accessible. This includes a large screen and screen magnifier for the Point of Service sales machine, a customizable system to color code different product lines, a money reader to identify bills, and hand held magnifier for items in small print.
Perhaps the most important adaptation to make this position accessible is attitude. Attitudinal barriers can be the most difficult for people with disabilities to overcome in achieving employment. Merck's commitment to diversity in the workforce and its business partners paved the way for our partnership that has made this job opportunity a reality, and John certainly serves to reinforce the value of being open to a person's potential as opposed to their limitations. John is among the most reliable Everas employees and provides exceptional customer service. He knows his customers by name, and they ask for him when he is not there. His supervisor urges other employers to consider the non-traditional employee. She states, "There is a wealth of opportunity when employers expand their comfort zone. I have been fortunate to work with individuals who are highly motivated, responsible, and very good at their jobs."
While John's current job as Sales Associate is not in his originally preferred field, John says it's a pleasure to come to work every day. He would like employers to know that individuals with disabilities are productive people, eager to work, and more than capable of contributing to society. Beyond strong job performance which is undeniably important, John also leaves a positive impression on the people he encounters at the Pharmer's Market. He is pleased to be a part of Everas Community Services, an organization that celebrates diversity and strives to provide job opportunities to individuals of all abilities.