12 Nov

Red Lobster's Commitment to Workplace Inclusion

October marked the nation's 70th National Disability Employment Awareness Month, a time to reflect on the innumerable contributions of individuals with disabilities in the workforce. Building a more dynamic and diverse workforce is beneficial to employers and employees alike. Everas Community Services is committed to working with our clients to identify employment opportunities and strives towards eliminating barriers to employment wherever possible.

We are proud to acknowledge the Red Lobster locations in South Plainfield and East Brunswick, New Jersey as inclusive employers of individuals with disabilities. Four Everas clients earn competitive wages rolling silverware bundles for lunch and dinner service, as well as tidying the dining room. All of the individuals have intellectual and developmental disabilities, and two are also deafblind.

South Plainfield General Manager Lanre Sambo weighed in on the topic of inclusive employment. "These individuals are good workers, plain and simple. They come in, check with management for assignments, and take care of everything that needs to be done." Beyond the tangible value of good work, Lanre also noted how well all staff work together and how supportive his team is in including employees with disabilities.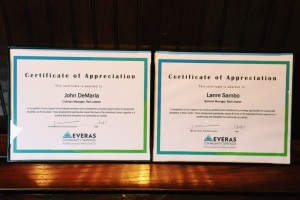 Culinary Manager John DeMaria echoed these sentiments, and the mutual benefits of the relationship between Everas and Red Lobster. "We are helping by providing a work opportunity, and the staff is helping by taking pride in their work and doing a great job." Both managers admire the staff's dedication to and enjoyment of their work.
Red Lobster boasts a long history of finding job opportunities for individuals with disabilities. Shane Melanson, Beverage and Hospitality Manager in East Brunswick, speaks to the benefit this provides the greater community. "As management, we want to maintain a good relationship with the community that sustains our business and keeps us going. Providing jobs is just one of the ways we can do that."
A job in many instances is much more than a paycheck, it is vital to a person's quality of life. It is an opportunity to make a valuable and meaningful contribution and be recognized for a job well done. It is a source of pride and self-esteem, and a chance to be included in the life of one's community. Everas continues to see first what a person can do, and is committed to supporting people with disabilities to find employment. We are grateful for employers like Red Lobster for sharing this vision.
Please join us in thanking Lanre, John, and Shane for their example in recognizing people's abilities and for enhancing the quality of life of our clients through employment.