01 Feb

Everas nominates Carlos Sanchez for NIB Employment Achievement Award

For more than 75 years, National Industries for the Blind has focused on enhancing the opportunities for economic and personal independence of people who are blind, primarily through creating, sustaining and improving employment. Each year, NIB holds a national Employee of the Year Award Program. Everas Community Services is pleased to nominate Carlos Sanchez for his exemplary work in Switchboard Operations at the VA to be considered for the Peter J. Salmon Employee of the Year Award. The award is named after the late Dr. Salmon, one of the nation's outstanding advocates for people who are blind, who was instrumental in the passage of the Wagner-O'Day Act  and the formation of NIB and who served on the Board of Directors of NIB in its early years.

Carlos Sanchez was born in New York to parents from El Salvador. At the early age of three months, he was diagnosed with congenital glaucoma and so, most of his life, he was visually impaired.  At age two, his parents moved to West New York where he grew up.  He was known for being very shy but developed his confidence throughout his youth for two weeks during each summer when he attended the Camp Marcella summer program, sponsored by the Lyons Club and the NJ Commission for the Blind and Visually Impaired.  Despite several eye surgeries to correct his various eye conditions, he finally lost his vision at age seventeen due to extreme eye pressure as a result of the glaucoma.  During high school, he developed independent living skills through state services.  He credits his high school teacher Mr. Edler with pushing him beyond his comfort level and helping to see what he was capable of through hard work.

Carlos studied Psychology at Seton Hall University. Although his eventual career progression would lead him to the technology realm, psychology has always served him well in communicating and collaborating with his peers in tech. He began working for Everas Community Services, Inc. (then, the New Jersey Association of the Deaf-Blind, Inc.) as a Switchboard Operator at the East Orange VA Switchboard Operations program in 1999, where he is still employed today.   Carlos is currently a part time Telecommunication Specialist with Everas, as in 2006 he was hired as a Technological Services Specialist (TSS) at the New Jersey Commission for the Blind and Visually Impaired which remains his full time career.

Carlos is committed to lifelong learning and process reengineering. He has a can-do attitude and a diligent work ethic. His solution-oriented focus makes Carlos a natural leader in the workplace and among his peers. Carlos advocates for his needs and the needs of his team when dealing with people or departments who are not familiar with assistive technologies in the field of blindness and visual impairments.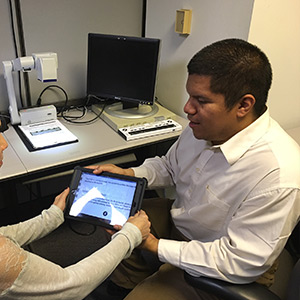 One specific accomplishment of Carlos' was the development of a user integration document detailing how to set up an accessible computer from scratch. It is sometimes difficult to collaborate with individuals who are not familiar with the hardware and software utilized by people who are blind and visually impaired for job accessibility. This document will be used to program computers with the correct settings to reduce issues that may arise during set up.  Based on his experience, this process is vulnerable to errors when people make assumptions.  This document reduces these errors by clearing outlining the process and settings to avoid common mistakes.
Carlos would like to become a Supervisor or a Training Coordinator and teach more people who are blind how to increase their efficiency with technology. It is his goal to become formally certified through Freedom Scientific, the manufacturer of JAWS, so he can become an official trainer.  One of the most gratifying aspects of Carlos' work is that he is able to help others who are blind and visually impaired to increase their independence.
Past nominees for this achievement award include Jay Patel, Leon Harris, and Emmanuel Steplight. Everas Community Services is grateful for the hard work and dedication of Carlos at the VA. We wish him luck along with all the others nominated for this prestigious award.