12 Aug

Everas Honors Community Star Paul Mohlenhoff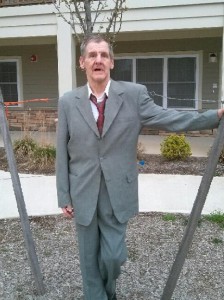 Each year the New Jersey Association of Community Providers (NJACP) holds an Awards Dinner to celebrate the accomplishments of Community Star recipients. The award honors people with intellectual and developmental disabilities who overcome personal obstacles to lead full lives and thrive in the community. This year on May 12 at the Stone Terrace in Hamilton, the awardees were honored by Senate President Steve Sweeney and Department of Human Services Acting Commissioner Beth Connolly. Everas' own Paul Mohlenhoff of the Pennington Group Home was the proud recipient.
Paul was born in 1946 to William, a minister, and his wife Helen Mohlenhoff. Paul lived at home with his family until his father passed away in 1995. He has two brothers and is an Uncle and Grand Uncle! Although his brothers live out of state, Paul looks forward to their annual family gathering in New Jersey and speaks to them often over the phone.
Paul loves discussing American history, especially stories about World War II. He is fascinated by the military and surely would have enlisted to serve if able. An avid reader, Paul frequents the library often and always has his nose in a book. He stays current by watching the morning and evening news, and is very well versed on a multitude of topics. Paul enjoys collecting trinkets and keeps them in his pockets. Also important to him is his personal appearance, and keeping his possessions in good order. He is a friendly and gentle man who loves to socialize, and is sure to brighten the day of anyone he comes in contact with. He is the bearer of many smiles.
After the death of his father, Paul lived in various sponsor homes and worked in assorted workshops. While he received the care he needed, he always wanted a place to hang his hat and call his very own. In November of 2014, Paul moved into his own apartment with Everas and is thrilled. A strong advocate for his independence, Paul has even learned to manage some of his medical needs independently. Paul is learning to look and loves the freedom to food shop, choose ingredients, and try new recipes from the magazines he reads. One of his dreams is to cook a meal from start to finish. Having his own room and bathroom is Paul's favorite part of living with Everas. There is also a clubhouse in his community where he enjoys partaking in the activities of his own choosing on his own schedule.
Everas Community Services, Inc. is happy to provide the support Paul needs to live as independently as possible and it is an honor to recognize him as an NJACP Community Star. The annual awards dinner has made it possible to celebrate the achievements of people in their communities regardless of differences in ability. With great joy, Everas continues to offer its clients the gifts of choice, independence, and possibility. We are grateful to the NJACP for celebrating the progress all have made thus far and will continue to make throughout New Jersey.