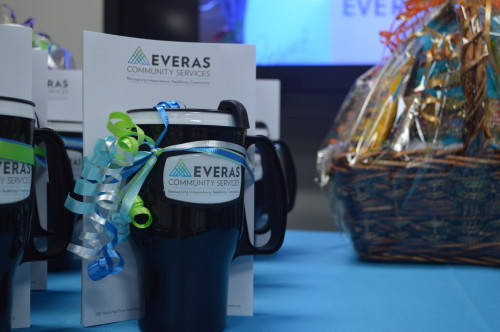 24 Oct

Everas Community Services, Inc. Board Staff Social

Each year, Everas Community Services, Inc. hosts a Board Staff Social to coincide with our first Board of Trustees Meeting.  At this event staff are recognized for milestone years of service, their contributions to agency growth and development through serving on committees and as agency trainers, and our Employees of the Year are announced.  The Board Staff Social provides an opportunity for staff to meet coworkers from varied programs throughout the agency, as well as Board Members who serve as agency volunteers in governance of our organization.

Our Employee Awards program is certainly a highlight of the event.  Employees are nominated by their peers for demonstrating outstanding service to our clients and our mission, and for being ambassadors of the Everas core values of care, quality and respect.  Our award categories are for Full Time, Part Time and New Employee of the Year, and this year nominations were submitted from every department in our organization. Collaboration, dedication, leadership and professionalism were themes that ran throughout each of the award winner's nominations.  We are so pleased to recognize the Everas Employees of the Year and congratulate them on a job well done.

Pictured below are award winners with their families and coworkers.
Full Time Employee of the Year, Synthia Williams Employment Services Coordinator
Part Time Employee of the Year, Alyssa Mondella, Direct Support Professional and Agency Trainer
New Employee of the Year, Mohamed Bangoura, Manager of West End Group Home
This year, we also recognized John Bush, who has achieved 15 years of service as a maintenance coordinator for Everas.  John works to ensure all of our properties and facilities are maintained, as well as our fleet.  In the past 15 years, John has supported the agency through the development of new programs and continues to make suggestions and recommendations for our properties in the best interest of the people we support.  Over the years, John is also called upon to build and create adaptive equipment from scratch to help our clients to be as independent as possible in daily activities.  From a shirt folding jig, to a cushioned mat, John never shies away from a challenge to help our clients succeed.
While he was unable to attend our event, Leon Harris, Switchboard Operator, was also recognized for 15 years of service to Everas.  Leon works as a member of our Switchboard Operations Program which serves the VA Hospital in East Orange, and several offsite clinics.   Leon commutes more than two hours each day to get to work and always arrives ready to provide the utmost in customer service to the Veteran community.  The Switchboard Operations Program employs people who are blind and visually impaired in association with National Industries for the Blind and the Ability One Act.
A fun evening was had by everyone who attended.  Thank you to those who assisted in the planning and set up of the event, and special thanks to Francesca Cwynar and Lauren Marshall who transformed our conference room and kitchen to a warm and inviting venue to celebrate Everas employees.