03 Jan

Happy New Year!

Happy New Year from Everas Community Services! We hope you had a wonderful holiday season, and wanted to share some highlights of our own. 

The NJ Association of Community Provider's Conference was held the week before Thanksgiving at the Taj Majal in Atlantic City. Several Everas staff attended and enjoyed a day of learning and professional development. We are proud to announce that Vicky Calabro, President of Everas was elected President of NJACP for a second term, serving through 2014.

Our Thanksgiving dinner party was held at Lakeview Group Home. Everyone enjoyed a delicious turkey dinner and spending time with their Everas family. A special thank you to Mr. Andy Ross, CPA and the Bedard, Kurowicki & Co. Accounting Firm for their generosity in donating food for our thanksgiving meal.

Early in December, Everas began providing services at our newest Group Home location in Middlesex County and signed the lease for the third location of Our-Co Day Program opening in Freehold in mid-January. We are happy to advance our mission to provide innovative services that promote independence and community inclusion for people with intellectual and developmental disabilities through these projects.

On December 13, our clients, staff and board members dressed up in their winter best for our annual holiday party. We enjoyed delicious food, dancing and of course, our special guests – Santa and one of his Elves. Our holiday party was made possible in part through the generosity of a $2000 gift from the Rue Foundation, Inc.

Below are some photos from the event!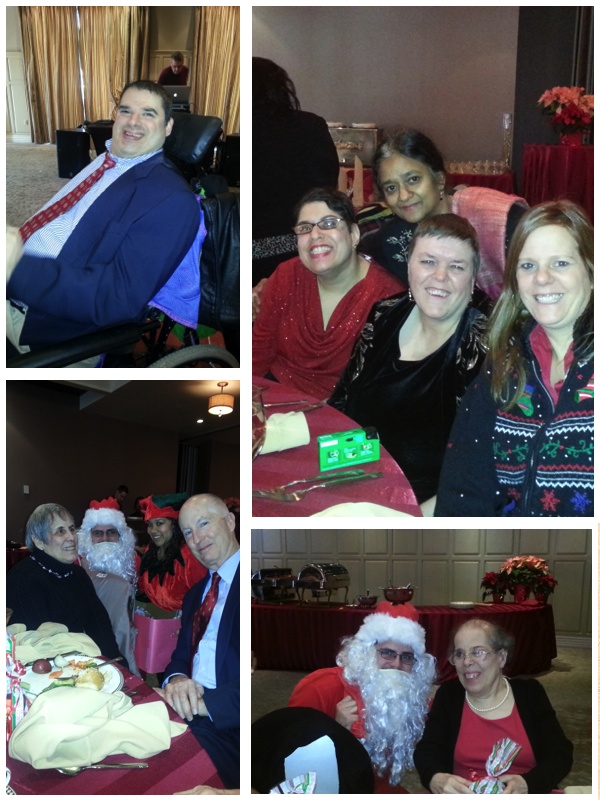 Everas is looking forward to a very busy 2014. In addition to the new day program, we have three new Group Homes in development that will open early this year to provide daily living support to men and women with intellectual and developmental disabilities.
We continue to research new opportunities to expand our Social Enterprise programs that employ people with disabilities, as well as partnerships with other organizations that support our goal to increase independence and community inclusion for people with specialized support needs.
Again, on behalf of everyone at Everas Community Services, Inc. we wish you a very happy 2014. We look forward to keeping you posted on our work this year!